Introductory Special! XL Four Piston Caliper Kit, 74-78 260Z-280Z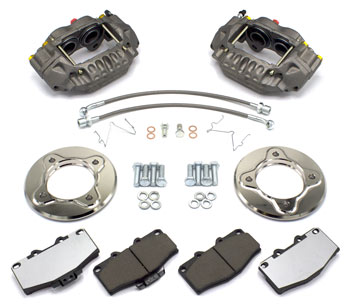 You can choose a Z-Car from your garage, or from the selections above, to filter the store or check part fitment.
Don't Be Fooled By Cheap Knock-Offs!
Our 4-piston caliper kits were developed by an independent engineer who is also a Z racer. His design and fabricating skills are unparalleled. The parts he produces for us use only the highest-grade materials and aerospace-quality finishes.
Poorly designed cheap imitations made from inferior grade materials can cause major problems. For instance, using a rough spacer in place of a Z-specific hub-centric adapter can cause excess tire wear and balancing issues that could lead to more serious mechanical failure.
Other kits with simple spacers, since they are not concentric, will require significant effort checking and adjusting for runout after installation. Since the alignment is only held by the screws, if you hit a pothole or a curb, you could knock the rotor out of alignment and have to do it all over again (every time), or even initiate an imbalance that could cause hub & wheel failure, risking you and your Z. It takes more material (money), machining time (money), and tooling fixtures (money) to create a properly engineered adapter like these, but they could pay for themselves by the lack of hassle, or even by avoided damage (or worse).
We will never sell brake or suspension components that put you or your ride at risk. Remember, an inexpensive part is no bargain if it costs you your Z, or worse. Don't cheap out on your safety!
Description:
XL 4-Piston Calipers Kits originated right here at Motorsport in 2003. These well-known kits are now available
directly
for 74-78 Z-Cars, engineered specifically for OEM 260Z & 280Z front wheel hubs. We worked with the same engineer who designed the original kits for 240Z wheel hubs, to develop a properly engineered kit for the 260Z and 280Z, without having to change your 260Z or 280Z to 240Z hubs. As has already been well-proven since the first 240Z-hub XL Brake Kit in 2003, this 260Z/280Z XL Brake Kit offers dramatically increased braking power for your Z by using larger four piston calipers, vented 84-85 300ZX Non turbo brake rotors (not included in this base kit, but see Related Items for Stage 1 & 2 kits that do include Rotors at a significant discount!), and stainless steel brake lines. The custom, 100% USA made Z-Specific, Hub-Centric Brake Rotor Adapters make it all possible. Keep reading below for details about the custom-engineered adapters (click thumbnails below for larger images).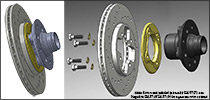 Kit Includes:
2 Custom Engineered, 260Z/280Z-Specific, Hub-Centric Brake Rotor Adapters
2 XL Front Brake 4-Piston Calipers
8 Grade 8.8 Cad Plated Rotor Bolts & Lock Washers
2 Custom Stainless Steel Brake Lines
1 Set of Street Performance Brake Pads
Custom Engineered 260Z-280Z-Specific Hub-Centric Brake Rotor Adapters:
More than simple spacers, these Brake Rotor Adapters were engineered for proper hub-centric mating between the rotor and the hub, like the factory OEM design. The adapter creates multiple points of contact with both the wheel hub and the brake rotor for safe and secure alignment that won't vibrate loose once bolted together. This design sets the alignment and concentricity of the rotor to the hub, similar to both the original brake rotor and even modern car wheels. All of our front brake adapters are precision machined from 6061-T6 Aerospace aluminum, then nickel plated to AMS 2404 (AMS-C-26074) Mill Specifications to make the highest quality (and best looking) adapters on the market by a wide margin. The engineer behind these adapters even took rotational mass into account and lightened them as much as possible while keeping correct structural integrity.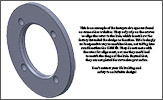 Brake Line Note:
The custom Stainless Steel Brake Lines included in this kit replace both the OEM rubber hoses and metal bridge tubes. The lines go from the main metal brake lines directly into the calipers.
Brake Pad Note:
The included brake pads are great for everyday and street performance use. Looking for higher performance brake pads for heavier street or racing use? See 24-5522, 24-4959, or 24-4919 in Related Items, or give us a call.
Wheel Hub Note:
Even before we started offering the 240Z version of this kit, we had seen many instances of wheel hubs being interchanged between early and late S30 models. This kit can be used on any S30 model with 74-78 style "round" wheel bearing hubs. Therefore, if you haven't checked already, please confirm which hubs are currently installed on your Z prior to ordering. Click on the image below for a simple comparison.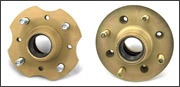 Model Guide:
Datsun 260Z, 280Z
Code Guide:
Datsun S30
Year Guide:
1974, 1975, 1976, 1977, 1978
Support Independent Z Engineers!
Please support the local independent engineers that bring so many great products to the Z Community. The same Engineer that did the original research to come up with
the first 4-Piston Caliper Conversion
, also brought these great brake upgrade adapter kits to Z Enthusiasts everywhere. Some unscrupulous individuals have taken these custom adapters & sent them to China to have them copied with inferior materials and missing design features.
This local engineer
personally
crafts the custom adapters himself, right here in Southern California, with materials made in the USA. Nobody comes close to his design, quality, and accuracy. Support his contribution to the Z Community by buying the originals, so this great asset to all Z Enthusiasts can continue to create great new products for the Z-Car. Thank you.
Some parts may not fit every version of every year listed. See product Title & Description for any application breakdowns or customization options, and contact us with any questions.
1974 Datsun 260Z
1975 Datsun 280Z
1976 Datsun 280Z
1977 Datsun 280Z
1978 Datsun 280Z
Attention California Customers:

WARNING:
Cancer and Reproductive Harm -
www.P65Warnings.ca.gov
.