Z Store Information
About
Motor
sport Auto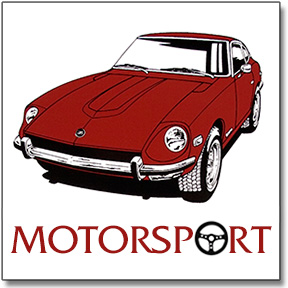 Thanks to you, we are in our 41st year of providing Z-Car enthusiasts the greatest selection of parts and accessories in the world. Your business is very important to us. Our dedicated professionals are always available to answer any questions you may have and help you find the parts you are looking for.

You can count on Motorsport. Our prices can't be beat, we ship orders promptly, and because we're Z-Car experts, we provide the technical support you need to make your project a success. We are all Z-Car enthusiasts. Many of us have Z's of our own, and most of the rest of us are looking! Our customers keep coming back because we do things differently.

The Z Store showcases some of our most popular items, however space limits us from listing every part we carry. If you don't see a part you want, we want to know about it! We are also more than a supplier of parts and accessories. Every spring, we host the largest annual Z-Car show in the world, the Z-Bash! (Formerly The Z Car West Coast Nationals), with hundreds of Z-Cars in attendance, and thousands participating in an exciting 3 day event (temporarily postponed, coming back soon!). Our team sells more parts, because we sell more than just parts!
Thanks for your patronage!


Your Motorsport Team Members:

Greg Smith

Founder, President, General Manager

David Healis (x213) email

Sales Technician/Customer Service

Anthony Wallace (x203) email

Sales Technician/Customer Service

Austin Rhim (x204) email

Sales Technician/Customer Service

Garrett Fleig

Marketing/Customer Service

Jon McCarty

Warehouse Manager

Joseph Carrubba

Marketing Manager
Contact:

If you have any questions about Motorsport Auto, The

Z

Store, our privacy policy, our parts, our websites, or anything else, please contact us.
Motorsport Auto
1139 West Collins Avenue
Orange, CA 92867
Phone Center & Showroom Hours:
9-5 Tuesday - Friday (Pacific Time)
Excludes Holidays

Phone Number:


(714)639-2620

Fax Number:


(714)639-7460

Email:


All Departments:
info@thezstore.com


Our Websites:




http://www.thezstore.com

(This Online Store)


http://www.motorsportauto.com

(Motorsport Industries Corporate Website)



Store Information and Policies:

Trust: Motorsport understands the need to have confidence in the company you are shopping online with. All of our pages are secured with SSL Security.

Privacy & Security: Motorsport Auto values your privacy. We never have and never will sell or rent your personal information. Many of our online competitors ask you to tell them if you don't want your information shared with "select partners". We can just tell you confidently right up front, this isn't going to happen at Motorsport. Also, your credit card information is NOT stored on our web server. Our pages are secured & safe.

Taxes & Duties: Orders that are shipped to California are taxable. Canadian and all other non-US taxes, customs, duties, or other fees and charges will NOT be listed on your order. These are the purchaser's sole responsibility with their respective government.

Pricing: Prices shown are in United States Dollars (USD), and are subject to change. If any prices change that are different than what is reflected on your order, we will contact you with any changes prior to charging your credit card.

Parts Availability & Back Orders: We do our best to anticipate your parts needs. However, at times we may temporarily be out of some items due to delays from our suppliers. In such a case, your sales technician will contact you to determine if you wish your order to be shipped less the backordered parts, or if you'd prefer that we hold your order until all of the items arrive.

Special Orders: Certain items may be sold on a special order basis. We are happy to provide them, but they must be pre-paid and are not returnable. If you require an item you do not see in any of our online or print catalogs, just give a sales technician a call at (714)639-2620.

Pictures & Diagrams: The pictures and diagrams shown in The Z Store are general representations. Details are often updated throughout the year and may vary from the photos or diagrams shown. In addition, many products cover several years and may not be an exact representation of your exact year & model. Many diagrams also show groups of parts which may or may not be included with items on the corresponding pages. In addition, know that electronic color representation will vary depending on varying monitors and monitor settings. We do our best to make sure the color shown on most monitors is as close as possible to what you will see when your part arrives. Also, the camera, lighting, and settings used to take images will vary. For instance, most of the "Burnt Orange" images are examples of this. Although the tints may appear a bit different on your monitor, they are all extremely close to identical in tint. Another example is that carbon fiber can appear differently depending on the same factors. All carbon fiber is the traditional "dark" carbon fiber, unless otherwise specified as "silver", or "red", etc. Carbon fiber by nature reflects light with a wide variance of looks, but all "traditional" carbon fiber will have basically the same "black" and "gray" rowed appearance as any other when viewed in the same lighting and conditions, unless specifically noted with a different color. Please ask us if you have any questions about the images and diagrams in The Z Store.

RHD Vehicles: Please note that all parts in this store, unless specifically noted otherwise, were designed for Left Hand Drive vehicles. While the majority of parts are the same for RHD and LHD Z-Cars, not all parts will fit the same if you have a Right Hand Drive Z-Car. If you are looking at a specific part and you aren't sure if it is the same for your RHD vehicle, please contact us and we'll help you research whether there will be any issues fitting those parts on your RHD Z. Thank you.

Warranties: All items are warranted to be free from defects in materials and workmanship at the time of shipment to you. Many parts are backed by the limited warranty extended by the parts manufacturer. Parts returned for warranty will be exchanged or credited at our option. Motorsport, or the parts manufacturer, will not back warranty requests due to shipping damage, improper handling or installation, abuse, neglect, accidents, or competition use. Warranty claims apply to the parts only, and do not cover labor, installation, towing, shipment, or other incidental charges.

Returns: Returns are a part of doing business. A no hassle return policy such as we have here at Motorsport, is an important part of good customer service.
1. PLEASE CALL US BEFORE RETURNING ANY ITEM. Most problems can be solved with a telephone call.
2. All items returned must be in unused condition, and in the original packages.
3. We cannot accept returns on electrical or emission control parts, books, manuals, tools, and certain competition items.
4. You will be issued a return authorization (R.A.) number. This number allows us to track and process your return quickly and efficiently. Write the R.A. number on the outside of your return package, include a copy of your original invoice, and return the package within 10 days of the receipt of your R.A. number. We will not accept any returns without an R.A. number.
5. Carefully package and insure all items for their full value. Lost or damaged parts cannot be exchanged or refunded.
6. Return packages must be sent prepaid directly to our address. We do not accept packages returned to us by Greyhound or other shippers that require us to make terminal will calls. Any return sent C.O.D. will be rerouted back to you by your freight company.
7. Refunds will be issued in the same method of payment used for the original purchase.
8. Parts returned on a non-exchange basis are subject to a 20% restocking fee.
9. No returns will be accepted after 30 days.

Legality: Not all of the products listed in The Z Store or sold from Motorsport Auto are street legal in all areas. We can not guarantee the legality of any specific part. Many parts are designed for use only on off-road (racing) vehicles. Check with your local law enforcement agency and/or Department of Motor Vehicles to assure the parts you are interested are legal in your state or locality. If you have any question about the part in question to see if they meet the requirements of your area, just give us a call.

If you have any questions about our store terms, just give us a call at (714)639-2620.



Payment Information:

Payment Types:

Credit Cards: We accept Visa, Master Card, Discover, and American Express. Your credit card will not be charged until your order is ready to ship. Please note that at present we can only accept one payment card per order. If you need to pay with multiple cards, we can divide your order into multiple orders as you wish.

Virtual Credit Cards: We are not able to accept Virtual or temporary Credit Cards (like Affirm), which expire in 24 hours. Please contact us with any questions or for more options we may have available for payment on your order. Thank you.

Note For Debit Cards: Please note that Banks impose a daily limit on Debit Cards. We will charge your card when your order ships. If other charges that day put you over your limit, your bank will decline our charge, and your order will be delayed while we attempt to contact you. Orders delayed by declined charges are subject to loss of reserved inventory to the next order pending. Therefore be certain your card will take the charges, regardless of the shipment day.

Declined Credit or Debit Cards: For all Credit or Debit cards, if your order is delayed by declined charges, it will be subject to loss of reserved inventory to the next customer order waiting for that inventory. Please be sure we have a good contact number to get in touch with you quickly, and resolve the issue so your order can ship. Thank you.

PayPal Payments: We accept PayPal for most transactions.

PayPal E-Checks: You can also pay by Electronic Check through Paypal. Please note that the release of eCheck funds is completely at the discretion of PayPal. We are happy to accept PayPal eCheck Funding, however the amount of time before PayPal clears the funds may vary significantly. This is only applicable specifically to PayPal eChecks.

Note For PayPal: For Standard, or USPS Shipping, where a shipping charge is shown in your cart, PayPal will process your payment before your order is sent to us. For International customers, or shipping methods that are to be determined (TBD), we'll confirm your PayPal specific email, and get back to you with shipping options. If you then choose to continue with your order, we'll send you a PayPal invoice. Nothing will be charged until you hear your options and decide to proceed.

If you have any questions about your payment, just give us a call at (714)639-2620.

Note: All prices and transactions in The Z Store are in U.S. Dollars (USD)



Shipping Information:

Deadlines for Air Shipments: Air shipment order requests must be submitted by 8:00 AM Pacific Time (Monday to Friday) to be eligible for same day shipping. All shipments are subject to parts availability. For urgent air orders, we recommend calling (714)639-2620 to process your order immediately over the phone with one of our Sales Technicians.

Expedited Shipments: Note that weather and other factors can extend FedEx Air arrival times, and weekends and holidays are not counted as days. For shipments outside of the US, you can call us, or just complete your order and we will contact you. If you choose FedEx Air, we will contact you with a shipping quote for your FedEx Air options. If you would like a quote by phone first, just give us a call. Please be sure that we have good daytime contact information so your shipment is not delayed.

Standard Shipments: Standard shipping transit time is generally 2-5 business days in the western states (1-3 in California), 3-6 business days in the central states, and 3-8 business days in the eastern states, depending on location. Weather and other factors can extend or shorten these times. Weekends and Holidays are not counted in these calculations.

Post Office Shipments: Priority Post office shipments (not available on all parts) will take 2-3 business days to arrive once shipped. Since Post Office carrier pickup isn't always the same, morning orders may not automatically leave the same day. Please call for confirmation. Parcel Post shipments (not available on all parts) will take 7-10 business days to arrive. All shipment times depend on parts availability. Weather and other factors can extend these times. Sundays and Holidays are not counted in these calculations.

Military Addresses: For AE, AP, and AA, choose the APO shipment listing (small packages will show Priority Mail and Parcel Post options and amounts). For all other packages, we will contact you with a shipping amount. Also note that there are size limitations for USPS shipments. If your package is too large for the military post office, we will inform you that you must make arrangements for shipment to a street address.

Overseas Shipments: For shipments outside of the US, the shipping amount on your order will show zero. We will contact you with a shipping estimate after we receive your order. To get the shipping estimate ahead of time simply contact us.

Limitations: All non-ground service shipment estimates are subject to dimensional weight corrections per the carrier. We will contact you if there are any adjustments needed.

Large Parts: If the part you ordered shows "Oversize" in the shipping selection, your package is too large for the shipping software. We will get the best possible Freight Quote to your location, and inform you of that Freight amount before we ship your order. This amount WILL NOT SHOW on your online invoice, but will be part of your total payment prior to shipment. When we contact you with the shipping amount, you will choose to proceed with the shipment then. This Freight type Shipment will apply to all hoods, fenders, and similar large items, and on many aero styling body parts.

Software Limitations: Unfortunately shipping software is not able to "understand" that a starter, for instance, can not be shipped in the same box as a radiator, since the radiator would be irreparably damaged! It will always assume one box for your entire shipment. So in many cases, we may have to send your order in multiple boxes, which may result in a larger final shipment total. In the same way, an order for 3 dash covers would rate at 3 times the "weight", since each cover separately is one oversized package, when actually all three can fit in one oversize package, and be rated at the same amount. If this is the case on your shipment, we would then be contacting you with the lower shipment total. Either way, a Motorsport representative will contact you with any such changes.

Shipping Damage: Under Federal law, all packages become the freight company's responsibility upon our delivery to the carrier; therefore, any shipping damage claims must be made to the freight company. INSPECT YOUR ORDER CAREFULLY BEFORE SIGNING FOR IT. Note any irregularities or damage on the freight receipt. If the package is in good condition, open it immediately and check for hidden damage. Hidden damage must be reported to the freight company without delay. Freight companies will not honor late claims, even if they are at fault. Retain the original shipping carton and packing materials. Do not return damaged items without prior approval. The freight company will not be responsible for the damaged items if you send the items back to us. Since they cannot reimburse you the freight, you will be out the money.

Missing Packages: Under Federal law, all packages become the freight company's responsibility upon our delivery to the carrier. Motorsport Auto cannot be responsible for packages that were delivered by the carrier to your address, but then stolen or misplaced from your location. If you have any concerns about the safety of packages left at your address, we can send your package as "signature required", or have it shipped to a different address, or have it sent to a shipping company office, where you can pick it up directly from them.

Shortages: PLEASE OPEN YOUR ORDER IMMEDIATELY UPON RECEIPT. We take great care to make sure that everything you've ordered is shipped. However, if you are shorted a part, please do the following:
1. Check your invoice for back ordered items. These will be shipped separately.
2. Inspect the packing inside the box as small items can become mixed-up with the packing, safely inserted inside the package of a companion part, or even securely taped to another part. All is done for protection during shipment.
3. Check for splits, cracks, or tears on the outside of the box. Call the shipping company immediately and report the shortage.
4. All shortages that are our responsibility must be reported within 14 days of shipment to you.

If you have any questions about your shipment, just give us a call at (714)639-2620.