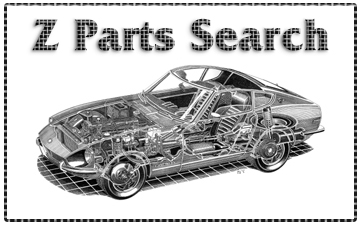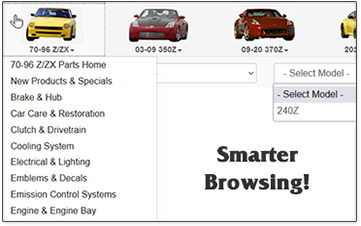 The Search Box at the top of most pages will give you results based on one or more words. For instance, a search for
reproduction
(at the time of this writing) gives about 93 results. The term
front
gives about 630 results. However both words together
reproduction front
gives a more concise 12 results, showing pages that contain
both
terms
reproduction
and
front
. For even more concise results, you can also select your vehicle first!
Some may find it easier to click on the image for your era of Z-Car in the menu above, and browse by vehicle section category, like Interior, or Steering & Suspension, or Headers & Exhaust. This is also a great way to find parts if you first select a vehicle. If you select a 1972 240Z, and go to the Headers category, you'll see the Headers that fit a 1972 240Z.
If you need help finding a part, just give us a call at (714)639-2620, or email us at
info@thezstore.com
.
Remember, not all parts are listed in the store. If you can't find a part, let us know. If parts in the search results show a price of $0.00, this means there are options you need to choose which will determine your price, click the link to see the options.
Thanks for shopping at
The
Z
Store!