Past & Future Motorsport Auto Z Car Shows!
While the show below was from 2016, we are hopeful to restart Z-Bash in the near future. See below to learn what it is all about!
The NEW Z-Bash Weekend! May 13-15, 2016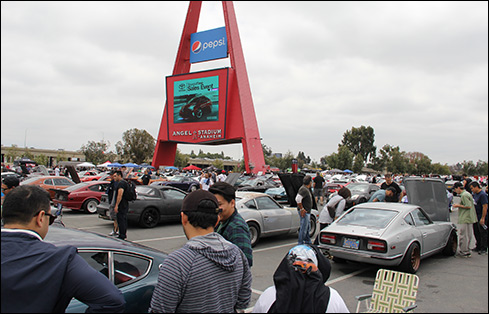 From all of the feedback we've received to this point, everybody loved the new Z-Bash! Did you miss it? If so, we left the pre-show information on this page, just scroll down to get an idea of what you missed! Image galleries from Z-Bash Weekend are now online, however Adobe Flash has been discontinued, so many of the galleries are not currently working. We hope to rebuild them soon.
The Stadium (Image Gallery #1)
Being re-uploaded soon!
First is the main show area at Angel Stadium of Anaheim, right down the street from our shop in Orange, on Saturday, May 14th, 2016. This gallery focuses on the Z-Cars (and their Nissan Brothers) that gathered for Z-Bash (note that it may take a while to load over 300 images!).
Z-Bash Weekend (Image Gallery #2)
Being re-uploaded soon!
Second is our image gallery covering the Friday Night Kickoff, The Z Parade before the show parking on Saturday, the awards, and even a couple of images from Sunday's Track Day at Willow Springs.
So what did you think of the Big Show on Saturday? How about the Track Event on Sunday? Did you come to the Friday Kickoff? Please send your feedback to zbash@thezstore.com. Thanks!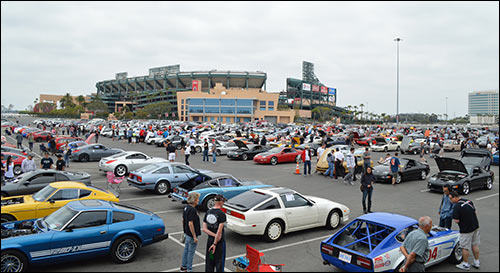 Z-Bash 2016? What was that? Scroll down to see what you missed, and check back here for a review, images, & videos coming soon.
Saturday Car Show Update!

The following map shows where to enter Anaheim (Angel) Stadium, and the directions between Motorsport Auto and Angel Stadium. All Show Entrants AND Spectators will enter the Angel Stadium Parking Lot from Orangewood Avenue.
Anaheim Stadium / Motorsport Auto Map
. Please remember we need those who are driving in a Z-Car, Roadster, 510, Skyline, or GTR to show up by 9am for show or Z-Attendee parking. Spectators coming in other vehicles please arrive at 10am (or remain in the visitor parking area, so as not to interfere with entrant parking). Thank you!
Nissan Update!

Nissan is joining Z-Bash on Saturday, and will be bringing some cool things, including some new vehicles... (drumroll) LIKE THE FIRST WEST COAST SHOWING OF THE

NEW 2017 NISSAN GTR!

Also, need one of the best tow vehicles available to tow your Z to the races? Then you'll like the First West Coast Showing of the

NEW 2017 NISSAN TITAN!
Food Truck Update!

At Saturday's Big Car Show, we have confirmed the following Gourmet Food Trucks:
Dyno Update:
We still have a few spots left for the DYNOJET Dyno testing on Saturday at the Big Show. Last minute decider? If there are any spaces left, we WILL now be able to take your Dyno signup and payment right at the show. Just visit the Motorsport booth to see if any spaces are available.
For Sale Update:
If you are planning to put your Z for sale at the show, but haven't let us know yet, please do so before Friday. If we don't hear from you, there may not be room in the special "For Sale" area for your Z, Roadster, 510, Skyline, or GTR. You can still put a For Sale sign on your car, but you will be in main show parking, and may be harder to find for those seeking your car. Thank you.
Showroom Sale Reminder:
Remember that there will be special Show-Only deals available at the Motorsport Showroom Saturday afternoon. The showroom will not be open Saturday morning.
Saturday Details Update:
A few notes to save you trouble. There will be room for folding chairs by your car in the parking area. However, no EZ-ups can be used in the show parking area, so please do not bring them. Alcohol is not allowed. Selling of merchandise is not allowed. Advertising, Flyers, or Promotions are not allowed. Cooking food within the stadium lot is not allowed. Drones are not allowed. If you need to bring your car on a trailer, please contact us ahead of time at
zbash@thezstore.com
for details. Do Not just show up with a trailer. Portable restrooms are located behind the "Big A" sign. Food trucks will be located near the "Big A" sign. Information, assistance, additional T-Shirts, and more will be available at the Motorsport Booth & Stage near the "Big A". Thank you.
The NEW Z-Bash Weekend! May 13-15, 2016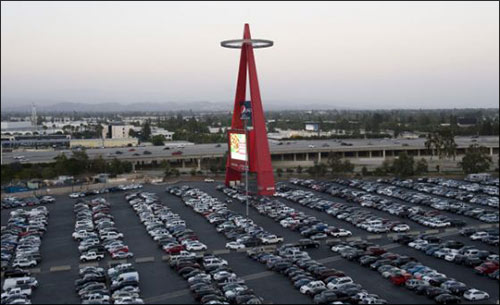 Featuring The BIG Saturday Car Show -
At Angel Stadium Of Anaheim!
The big Z-Bash Car show will be on

SATURDAY, MAY 14th

, at Angel Stadium in Anaheim, about a mile from our store in Orange! But that is just one day of Z-Bash Weekend! See below for current information & details about all three days of The NEW Z-Bash, and check back to this page for continuing updates and more details as we approach May.
BASH
Definition:
Informal. A thoroughly enjoyable, lively party.
Synonyms:
A celebration, blowout, diversion, gala, riot, shindig, festive occasion, get-together, wingding, party, festival, jubilee, good time, a BLAST.
O
ur original purpose for the event was as a "thank you" to our customers, the best customers in the world. Now we're taking that gratitude to a new level! The historic 20 year run of the "Motorsport Auto Z-Car West Coast Nationals" is continuing forward with the new name you already know, Z-Bash, which captures the joy of Z-Cars that we share with our customers, and the "blast" it is to gather together to celebrate them.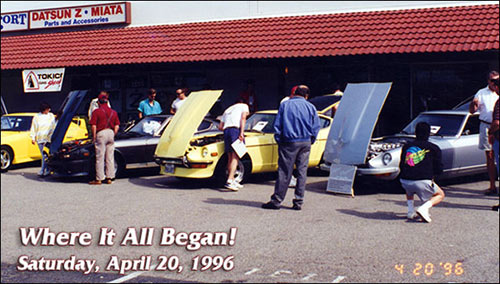 Note:
Are you coming in from out of town? We do have a block of rooms at the Ayres Hotel of Anaheim this year for Friday and Saturday night, scroll down to the Hotel section to reserve your room at a discounted rate. Limited Spaces are available so register early!
Friday, May 13, 2016
Z-Bash Friday Kickoff & Garage Sale!

Where & When:
At the Motorsport Auto Showroom, at 1139 W Collins Avenue, Orange, CA, 92867, starting at 5 pm.
Maps & Directions To Motorsport Auto
.
It's All About The Z!
Even when we just get together for a Friday Night Kickoff at the Motorsport Showroom, enough awesome Z-Cars show up to call it a Mini-Show.
World Famous Garage Sale!
Since the Saturday show will be at Anaheim Stadium, we moved the Garage Sale to Friday Night. We'll find as many discontinued, dinged, dented, or otherwise closeout items for you as we can!
Showroom Sale!
The Motorsport Showroom will be open late on Friday, and we'll have some Z parts deals waiting for you.
Food & Refreshments!
Getting a first look at some of the awesome Z-Cars coming to the show on Saturday, and shopping for Z parts is always better with some snacks!
Registration?
There is no registration required for the Friday Evening event.
Updates:
Keep watching here for more details and additional attractions for the 2016 show. Z-Bash Questions? Just call us at (714)639-2620, or email us at
zbash@thezstore.com
.
Saturday, May 14, 2016
Before The Show Z Cruise!!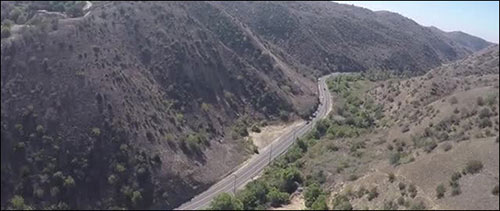 Group Z's Scenic Carbon Canyon Z-Car Cruise!
Want to arrive at the show at Anaheim Stadium in style and force? Join Group Z for a 7:30 AM carving of the world (and video game) famous Carbon Canyon Road. Wake up early for some before-the-show fun for you and your Z!
T
he meeting place is Costco Wholesale, 22633 Savi Ranch Parkway, Yorba Linda, CA. Please show up early. Please check your fluids, tire pressures, and have at least 1/2 tank of gas before arrival. Also, please RSVP to Group Z so they know how many Z-Cars to plan for! Thank you.
Saturday, May 14, 2016
The Big Car Show at Anaheim Stadium!
Just Confirmed!
The first (up to 500) to bring their Z for the car show will get a complementary 2016 Z-Bash/Abraham Memorial T-Shirt.
In addition, a donation box for The Cholangiocarcinoma Foundation, will be available at the Motorsport Auto booth in Abe's honor. There may be remaining shirts available for purchase also at our booth. Buy a shirt & then donate to a good cause!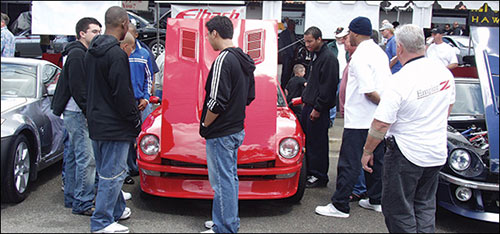 Saturday
is the big Car Show day! The
NEW Z-Bash
Car Show is a return to the "roots" of the Z-Car West Coast Nationals, which is about sharing our collective passion for the Z-Car with thousands of others, while seeing hundreds of the best Z-Cars (and others now, see below!) around. Where you can make like-minded friends, share ideas, see hundreds of ideas already completed, take pictures of your favorites, maybe win some awards, and have a blast.
Most importantly, at the NEW Z-Bash there is NO CHARGE to enter your car in the show!
The
NEW Z-Bash
is 100% about the cars, with no fluff or nonsense, just back to the largest annual gathering of Z-Cars and enthusiasts. In addition, the
NEW Z-Bash
will also include some of the Z-Car's Performance Nissan Family, like Roadsters, 510s, Skylines and more. Scroll down for more details! In case you missed it in previous announcements, what was that big announcement about the
NEW Z-Bash
? Not only is it moving back to a larger venue, like the history of the Z-Car West Coast Nationals; but will remain at NO CHARGE, like our parking lot events, combining the best of both shows into one new show. Simple. Easy. Fun. In the spirit of our favorite Nissan video, just take someone "
riding in the car
", join some other Z friends, and have a blast of a road trip to the
NEW 2016 Z-Bash
!
Z-Bash Newbie?
In addition to the all the pertinent information below, you can also learn more about the 21 year old show, and SEE (Read: Lots of Pictures!) what Z-Bash is all about from some of our previous big shows:
2012
|
2013
Where & When:
At Angel Stadium Of Anaheim, 2000 E Gene Autry Way, Anaheim, CA 92806. Z-Cars, Roadsters, 510s, Nissan Skylines, and GTRs should arrive by 9 am for show parking. Spectators should arrive at 10 am. The show is slated to run until 3pm. The Motorsport Showroom will be opening before that (to be announced here and at the show). More details and maps about what entrance to use will be posted here as soon as it is confirmed. Note: The entrance will most likely be from Orangewood Avenue, and not Gene Autry Way.
It's All About The Z!
Z-Cars everywhere. Our great customers bring everything from daily drivers to show-only cars. Regardless of the status of your project, bring your Z to participate and show your work and plans, share ideas and experiences, get ideas, and enjoy a gathering of hundreds of Z-Cars, and die-hard Z enthusiasts.
Z's For Sale Area!
We have a special reserved area with Z-Cars for sale, which has become a can't-miss part of the show. Considering the buzz around this area all day at the show, it has been a big hit with most participants since we started it a few short years ago. People can show up to Z-Bash from all over the world, so you never know who might come to check out your Z. In order for us to advertise your car ahead of time, and have enough space for you in the For Sale area, registration is important so buyers know your car will be For Sale at the show! Please tell us about the Z you are selling. There is no charge for the registration. Since we're inviting Datsun Roadsters, 510s, Nissan Skylines, and GTRs to the show this year, if you have one of these for sale, you can also register for the For Sale area.
Datsun/Nissan Performance Brothers Invited!
With the extra available space this year, we have also invited Datsun Roadsters & 510s, as well as Nissan Skylines & GTRs.
Show Cost:
The cost to enter your Z/Roadster/510/Nissan Skyline/GTR in the show? That would be Zero, Zilch, Zip, Nada, Null, Bupkis, Goose Eggs (Note: Please do not bring any goose eggs!)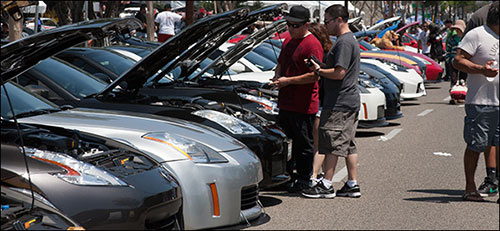 Show Registration:
There is no official registration required for the car show. However, since it is such a large venue, getting a good idea of how many Z-Cars, Roadsters, 510s, Nissan Skylines, and GTRs will show up can make the difference between a smooth Saturday morning getting everybody and everything in place, or an annoying hassle. So we ask you to simply let us know if you plan on coming. You can let us know by email at
zbash@thezstore.com
, or note it in the comments of your order when you place it at this store, or let us know when you give us a call at (714)639-2620, or tell us when you stop by our showroom in Orange.
The Motorsport Showroom:
The nearby Motorsport Showroom will not be open in the morning, as we'll need all hands on deck at the show. However we will be opening the showroom in the early afternoon. The exact time will be determined and announced here as soon as it is confirmed, as well as being announced at the show.
Car Show Sale Coupons!
Greg is cooking up some one-day-only, present-at-the-show-only deals. Only those physically at the show can get these sale coupons, which can then be used the same afternoon at the Motorsport Showroom.
DYNOJET Dyno Runs!
MCE Racing is bringing their custom DYNOJET trailer right to Angel Stadium of Anaheim, for the best DRIVE-ON, DRIVE-OFF testing available... RIGHT AT THE SHOW! Every car that is tested gets 3 pulls, and a full color, laminated print-out of horsepower & torque, including the air/fuel ratio during the whole test, for $49.95! That is ten bucks less than you would pay at their shop at Thunderhill, but Motorsport is bringing the Dyno to you, and not passing along the extra mobile expenses. You can reserve your space for the Dyno by giving us a call at (714)639-2620.
Popular Local Cuisine:
A mobile gourmet lunch will be available right at the show! More information to be announced here as soon as it is confirmed.
Opportunity drawings!
We'll have drawings for cool Z prizes. As always, these will ONLY be available to those physically at the show!
Updates:
Keep watching here (and the detail page) for more details and additional attractions for the 2016 show. Z-Bash Questions? Just call us at (714)639-2620, or email us at
zbash@thezstore.com
.
Sunday, May 15, 2016
Z's Take Over The Streets Of Willow!

When & Where:
Hosting professional races and amateur thrills since 1953, Willow Springs International Motor Sports Park is a 600-acre complex of eight racetracks embracing nearly every conceivable motor sports discipline. The park is located about an hour north of Los Angeles, in the city of Rosamond, which is near Lancaster, CA (about two hours from Motorsport Auto). The Streets of Willow Springs is a 1.8 mile, 14 turn road course with a skid pad, multiple elevation changes, and a 20 degree bowl turn.
It's All About The Z!
Z-Cars take over The Streets Of Willow! Motorsport is joining forces with Speed Ventures for what should be an awesome track day, especially if all of you get signed up with your Z-Cars first and take over the event! (don't hesitate, space is strictly limited).
Nissan Challenge!
Speed Ventures is hosting the "Nissan Challenge" on Sunday as well, where all Nissans that sign up will battle for best times.
Speed Ventures?
While we've hosted driving events in the past, joining up with Speed Ventures' track day gives you an already pre-tested, pre-polished professional HPDE (High Performance Driving Event). Aaron Bitterman and Speed Ventures have built a great reputation for running great events. So whether you have already enjoyed "track days" in the past, or have "always wanted to try that", this is a chance to have the time of your life at a World Famous facility, in a professionally run, safety conscious blast of a good time. This is 100% a Speed Ventures event, and will be completely run by them, which is a good thing, as they are pros at this and know how to do it right.
Discounts!
Signing up as part of the Z-Bash event also gives you a discount code you can use to save some money or get a Free Transponder!
Updates:
Keep watching here for more details and additional attractions for the 2016 show. Z-Bash Questions? Just call us at (714)639-2620, or email us at
zbash@thezstore.com
.
Ayres Hotel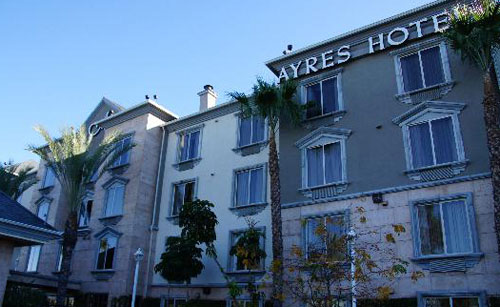 Located a couple of blocks from Anaheim Stadium, the Ayres had great reviews from previous events. Rooms are available Friday, May 13th, and Saturday, May 14th (checkout on Sunday, May 15th am). You can make your reservation for just one or both nights. Call the Ayres to reserve your room at 714-634-2106, ext. 512 or ext. 521. Ask for Motorsport Group reservation to get the special discounted group rate of $139.95 per night (If they sell out, contact us for alternate options).
Coming Back Soon!
Galleries and more from previous years of Z-Bash.