Eibach Progressive Rate Springs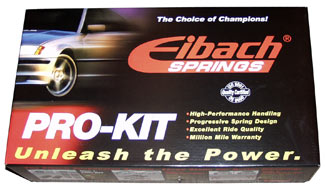 Eibach Progressive springs have been a favorite among Z-Car owners that use their car for more than one type of driving. They are designed in a way that allows the spring rate to increase as the spring compresses. The result is a suspension feel that is fairly comfortable under normal driving conditions without an overly significant sacrifice through the canyons or in the corners of the autocross course. Most applications will be lowered by approximately 1" to 11/2" from the factory ride height (varies on other factors, such as strut & shock choice, and other modifications). As with all Eibach Springs, these kits are made from the highest grade automotive spring steel. Sold complete in matched sets of four.



Motorsport Exclusive!:


Eibach previously discontinued all early Z-Car springs many years ago. We were able to work out deals with them to bring each of the individual sets back into production, and they are now available exclusively through Motorsport!

If you mostly use your 70-78 Z for track days, or if you race regularly (or drive like you are), then the Motorsport Springs might be a better option for you. Click Here for more details.