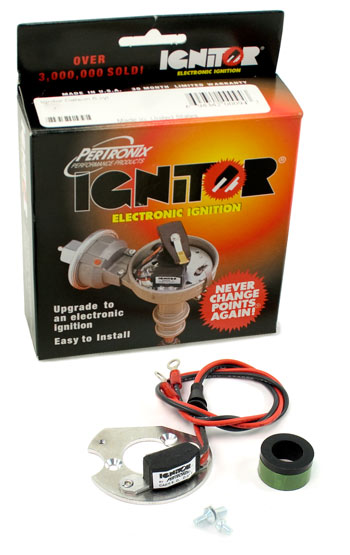 PerTronix Ignition Kit w/ Black Coil, 70-73 240Z w/ Manual Transmission
Installation Note:
The trigger cylinder that fits on the center shaft of your distributor (under the coil) has a strip of green tape around it, as seen in the pictures above. DO NOT REMOVE THIS TAPE! The tape holds the pickups for the trigger in place and should never be removed.Includes:
(1) Ignitor Unit
(1) Trigger Cylinder
(3) Installation Screws
(1) Installation Instructions
(1) Black Ignition Coil (Choose Ohms)
Description:
Get the best combination right off the bat and save a buck. This PerTronix Ignition Kit includes the Ignitor, as well as a Flame-Thrower' 40,000 volt coil in your choice of 1.5 or 3.0 Ohms. See below for more details on each part. For individual parts or the chrome coil kit, see related items below.
Ignitor Description:
A solid-state electronic ignition system. Never change points again! The Ignitor by PerTronix has proven itself for over 30 years in applications ranging from race cars to tractors. The Ignitor replaces the points in your 240Z (single point distributors only) with a dependable, self contained and maintenance free electronic ignition system. The Ignitor has been called the "stealth" ignition because of its quick installation and nearly undetectable presence under your distributor cap. Stock Distributor & Rotor not included.
Delivers twice the voltage to the spark plugs, increasing horsepower, fuel economy, and spark plug life
2:1 improvement over points in current fall time for increased coil output
Rotating cobalt magnets trigger a Hall Effect integrated circuit. No points to burn, no moving parts to wear out
Epoxy molding makes our module impervious to dirt, oil, grease and moisture
Fits entirely inside the distributor
No "black box" to clutter the engine compartment
Stable timing-no need for any adjustments
No complicated wiring makes installation easy
RPM Range: 0 to 15,000 RPM
Temperature Range: -50 to 300F
Works with stock 240Z coil
For optimal performance use with Flame-Thrower' 40,000 volt coil (included in this kit)
Legal in all 50 U.S. states and Canada (C.A.R.B. E.O. #D-57-2). For all other areas, check your local laws.
Guaranteed by PerTronix for 30 months
Works great as a trigger for multi-spark CD ignitions, like our Hi-6S (see related items below)
Not for dual-point distributors
Coil Notes:
The only performance coils that should be used with the PerTronix Ignitor, the 40,000 volt Flame-Thrower canister coil's higher voltage allows larger spark plug gaps for added power, smoother response and better fuel economy. They are oil filled for great heat control, and internally resisted. Legal in all 50 states and Canada (C.A.R.B. E.O. #D-57-10). The 3.0 Ohm coil is not for use with the factory (or any other) ballast resistor. If your setup requires you to keep the ballast resistor, please select the 1.5 Ohm coil above (see Related Items below for more information about the 1.5 Ohm PerTronix coils).
Installation Note:
The PerTronix coil in this kit is approximately 56 mm in diameter. Installation may be possible with your current bracket (see "Original Brackets" below), or simply add a Chrome Bracket, or Chrome Coil Cover & Bracket, from Related Items below, both of which will work properly with this coil.
Original Brackets:
Original 240Z coils (and many replacements) were a little smaller than the Pertronix coil included in this kit. If you have an original 240Z bracket, you may need to obtain a longer adjustment screw to use your original bracket. Some replacement coils available over the years may have been smaller or larger. Even Nissan original parts often varied, so base your decision on your current coil's diameter, and the adjustment remaining in your current bracket in either direction. If you have any questions, just give us a call.
Note:
Automatic transmission models came equipped with Dual Point distributors. If you currently have a dual point distributor, you will need to locate and install a single point distributor from a manual transmission model in order to use this kit.
This kit will NOT work with dual point distributors.
Please give us a call if you are not sure whether you have a dual point or single point distributor in your car.
Model Guide:
Datsun 240Z
Code Guide:
Datsun S30
Year Guide:
1970, 1971, 1972, 1973
Attention California Customers:

WARNING:
Cancer and Reproductive Harm -
www.P65Warnings.ca.gov
.