Performance NISMO Radiator Cap, 84-20 300ZX-350Z-370Z, 23-24 Nissan Z®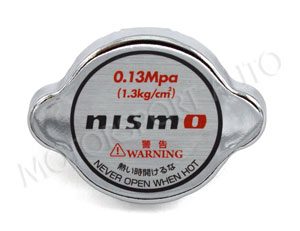 You can choose a Z-Car from your garage, or from the selections above, to filter the store or check part fitment.
Includes:
(1) Performance NISMO Radiator Cap
Description:
This performance/racing radiator cap from Nissan Performance (NISMO) is rated at 18.2 lbs. O.E. caps rate around 12.6 lbs. for non turbo and 16.8 lbs. for turbo.
8/11-20 370Z:
Starting with the 2012 model year, 370Z's have two similar looking caps on the cooling system: a pressure cap and a "filler" cap (both of which are referred to as Radiator Caps by Nissan). Previous 370Z's had the pressure cap located on the neck in front of the engine cover; however, the pressure cap was moved from this neck to the reservoir tank and a similar looking cap took its place. This Genuine NISMO Radiator Cap is designed to replace the pressure cap only, which is located closer to the front of the car. It is not designed to replace the "filler" cap and should not be used in its place.
2023+ Nissan Z®:
The note above for 370Z models also applies to the 2023+ models; however, the new setup now has 3 identical looking caps instead of 2. This cap can only be used to replace the pressure cap on these models.
Notes:
This cap is not for Motorsport radiator part numbers 16-6963, 16-6968, or 16-6969.
NISMO Products:
Unfortunately, we have seen a rise in imitation parts being sold as Genuine NISMO items. One way to spot an imitation radiator cap is to look at the two tabs on the ends of the cap. If these ends are not completely smooth (no letters or numbers stamped into them), then the cap you are looking at is not an original NISMO product. Imitation caps will often times have colored seals, where the genuine NISMO caps have grey seals. Genuine caps also feature a shielded spring and a mirror polished finish.
Image Note:
The images above show the earlier version of this radiator cap. The current version now has the current letter "o" in the logo, which is not filled in like the older versions were. In addition, the warning symbol below the logo is now in red instead of black. See 10-2073 in Related Items for an example of the updated logo.
Model Guide:
Nissan 300ZX, 350Z, 370Z, Nissan Z
®
Code Guide:
Nissan Z31, Z32, Z33, Z34, RZ34
Year Guide:
1984, 1985, 1986, 1987, 1988, 1989, 1990, 1991, 1992, 1993, 1994, 1995, 1996, 2003, 2004, 2005, 2006, 2007, 2008, 2009, 2010, 2011, 2012, 2013, 2014, 2015, 2016, 2017, 2018, 2019, 2020, 2023, 2024
Some parts may not fit every version of every year listed. See product Title & Description for any application breakdowns or customization options, and contact us with any questions.
1984 Nissan 300ZX-Z31
1985 Nissan 300ZX-Z31
1986 Nissan 300ZX-Z31
1987 Nissan 300ZX-Z31
1988 Nissan 300ZX-Z31
1989 Nissan 300ZX-Z31
1990 Nissan 300ZX-Z32
1991 Nissan 300ZX-Z32
1992 Nissan 300ZX-Z32
1993 Nissan 300ZX-Z32
1994 Nissan 300ZX-Z32
1995 Nissan 300ZX-Z32
1996 Nissan 300ZX-Z32
2003 Nissan 350Z
2004 Nissan 350Z
2005 Nissan 350Z
2006 Nissan 350Z
2007 Nissan 350Z
2008 Nissan 350Z
2009 Nissan 350Z
2009 Nissan 370Z
2010 Nissan 370Z
2011 Nissan 370Z
2012 Nissan 370Z
2013 Nissan 370Z
2014 Nissan 370Z
2015 Nissan 370Z
2016 Nissan 370Z
2017 Nissan 370Z
2018 Nissan 370Z
2019 Nissan 370Z
2020 Nissan 370Z
2023 Nissan Z
2024 Nissan Z
Attention California Customers:

WARNING:
Cancer and Reproductive Harm -
www.P65Warnings.ca.gov
.