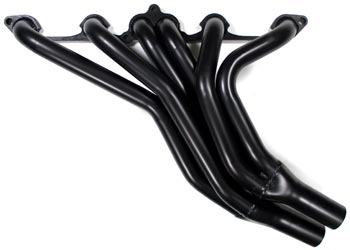 MSA 3-2 Header, No Smog Fittings, 77-78 280Z

You can choose a Z-Car from your garage, or from the selections above, to filter the store or check part fitment.
Performance Exhaust Overview:
A performance engine is an integrated affair. When you modify one set of components, you have an effect on other systems. On a mildly modified engine, a minor upgrade in either the cam specs, exhaust system, or intake can be done independently. For performance, camshafts work best when integrated with upgrades in the exhaust and intake. The exhaust system is probably the first area to improve on any engine, because this will only enhance future modifications. The study of Physics tells us that we usually can't get "something for nothing", but when adding headers and improved exhaust components to an engine, we almost do. The improved exhaust flow and velocity derived from tubular headers and free flowing mufflers is one of the only modifications you can make to an engine which will improve both power and fuel economy.
Includes:
(1) MSA 3-2 Header
(1) Header Style Manifold Gasket
(1) Exhaust Adapter w/ Clamp (Choose Option)
Description:
These outstanding headers are built especially for Motorsport to our strict specifications. The thick exhaust flange is flat machined to promote a consistent seal. It also prevents warping and eliminates the need for spacer height modifications. Exhaust ports have high-quality welds to ensure leak-free performance. We use 1 1/2" primary tubes to ensure increased exhaust flow without any performance loss. Can be attached directly to the stock exhaust components or our Motorsport performance exhaust systems (choose stock or 2 1/2" adapter (pipe diameter of the exhaust you are going to use)). Special installation gaskets are included (do not use original equipment type exhaust gaskets with headers). This header configuration is for original 1977-1978 cylinder head "round" exhaust ports only.
Head Casting Number:
While not required to place your order, it is helpful for us to know your engine's cylinder-head casting number. Some early Z-cars have had engine or cylinder-head swaps, which could have an effect in the determining the correct header for your unique application. If you know the cylinder-head casting number, simply type it in the box above. If you're not certain, just leave that field blank, complete your order, and we'll contact you to make certain you receive the right header the first time. Other companies may not take this extra step, but we're serious about your satisfaction.
Please be sure we have your current daytime phone number or monitored email address so that your order may be expedited without delay
.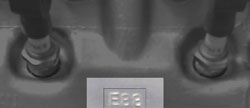 Click the image above for an example.
Exhaust Adapter:
Choose stock or 2 1/2" adapter (pipe diameter of the exhaust you are going to use). Early Z stock exhausts were about 47mm in diameter (approximately 1 7/8"). If you have your original exhaust system, or it has been replaced with matching parts, choose the stock exhaust adapter. If you are installing one of our performance exhaust systems, or creating your own system, choose the 2 1/2" Exhaust Adapter.
Smog Legality:
Headers may not be street legal in some areas. Check with the motor vehicle code/department in your area. This header does not have any fittings for factory emissions (smog) equipment.
Protective Coating:
This header comes with a simple paint to help prevent damage to the metal during manufacturer processing and shipment. It is not permanent or high-temperature paint. Not only would pre-applied high-temperature paint complicate your own color or finish choice, but the manufacturer's post-welding handling and shipment process would damage the paint. Final High-temp paint should not be applied until you are ready to install the header onto your engine. You simply need to lightly sand the remaining protective paint on the surface of the header, and then apply the high-temperature paint of your choice. Most local paint stores will have a good selection of colors to match whatever under-hood scheme you are creating. For basic colors,
POR-15 High Temperature Paint
is an excellent option for a long lasting, extremely durable finish (see 80-8274 in Related Items). The same will be true of the adapter. Note: The adapters will fit very tightly, so do not over-coat the paint on the end of the header, or paint the inside of the adapter end. If you are interested in a long-lasting protective Ceramic coating, see part 15-6001CH in Related Items.
Model Guide:
Datsun 280Z
Code Guide:
Datsun S30
Year Guide:
1977, 1978
Attention California Customers:

WARNING:
Cancer and Reproductive Harm -
www.P65Warnings.ca.gov
.