KYB Gas Strut Cartridges & Shocks

Gas struts have become common on many models over the years, typically replacing oil filled cartridges. They offer improved handling and ride quality, and, they prevent oil foaming which was a common issue on oil cartridges. This type of shock is particularly well suited for the 280ZX & 300ZX, helping to relieve the acceleration squat and bottoming so common in these vehicles. KYB's have a limited lifetime warranty. These gas cartridges are a particularly good value for 300ZX Turbo owners, considering the cost of replacing the standard adjustable struts, although they do require the adapter kits shown on their detail page. KYB's are non-adjustable and sold in front or rear pairs.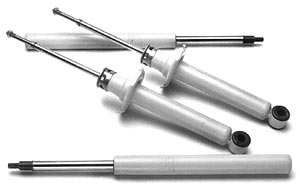 Note:

KYB's are designed for stock springs, and are not for use with lowering springs.