Traditional Style Floor Mats

Smooth Solid Color Floor Mats
Here's the perfect protection for your Z's carpeting. We make our floor mats from the highest quality materials. The pile is deep, dense, automotive-grade fiber, woven into a waterproof backing, to which we add a non-slip surface which has to be tried to be believed. On the driver's side mat, a patented double tufting is used to dramatically increase wear protection without the heel pad. Besides keeping the mat from wearing out, eliminating the heel pad means no more damage to the back of your shoes. To ensure durability and a rich appearance, all outside edges are sewn bound. This is a far superior method to the inexpensive vinyl taping found on many floor mats. The mats are available in matching or contrasting colors (specify year and model of your Z-Car for the best color match possible).

Logo Option Floor Mats!
We offer the same quality floor mats with logos for "240Z", "260Z", "280Z", "280ZX", and "300ZX". Not just applied logos, these are embroidered into the carpets in a contrasting color, resulting in a quality logo that will be as long lasting as the rest of the floor mat.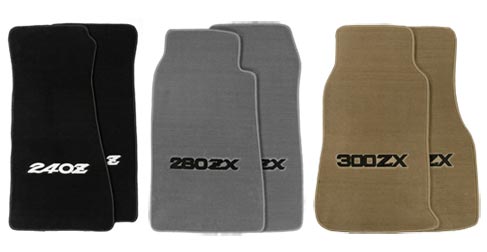 Note:

Click on your floormat application choice below to view the available floormat colors.