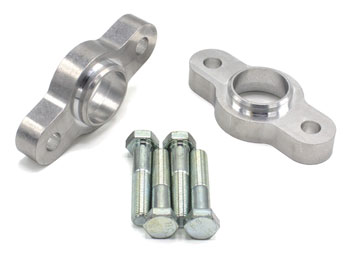 Bump-Steer Spacers, 14" Wheels, 70-78 240Z-260Z-280Z
You can choose a Z-Car from your garage, or from the selections above, to filter the store or check part fitment.
Update! We found one last box of these Bump-Steer Spacers in the warehouse (although the hardware was missing)! These are now limited to stock on hand; next time we run out we do not expect to get more again. If you need a set, don't hesitate!Includes:
(2) 19mm Bump-Steer Spacer
(4) Grade 8 Mounting Bolt
(4) Lock Washer
Fitment Note:
This set of Bump-Steer Spacers is for 14" diameter wheels up to 7" wide only. Clearance issues can result when used on wheels wider than 7". For 15" and larger wheels, see 23-4186 in Related Items below.
Description:
Bump-Steer spacers install between the steering knuckle (above the ball joint) and the bottom of the strut assembly. Made from quality aluminum castings, they are intended to correct steering angle and restore suspension geometry on lowered Z's. Specifically, they push the outer end of the front control arms and tie rods down into a position that mimics the original angles. In doing so, Roll Center is returned to a near stock ride height setting on lowered cars, which reduces body roll in turns by raising roll center. These are a great, fairly easy to install option for those lowering their car who are looking to reduce the noticeable effects of bump-steer.
Note:
Bump-Steer Spacers do not fully eliminate 100% of bump-steer, as that is not what they are designed to do. Bump-Steer elimination on a Z-Car requires specialized tools and specific modifications, and is most useful on cars that are driven aggressively (hopefully on the race track!). Lowered cars driven on the street or through the canyons will notice a level of bump-steer that feels similar to a stock height car (which is not noticeable to most, as most cars have some degree built in). Not sure if these are right for you? Feel free to contact us prior to placing your order.
What is Bump-Steer?
Without getting into too much detail, Bump-Steer is when one or both front wheels turn independent of the steering wheel as the wheels move up and down. This typically happens when only one wheel hits a bump in the road and causes that wheel to turn. In other words, the "bump" is causing the car to "steer". A degree of bump-steer is built into most cars by design as a safety feature; however, lowering a car typically makes the effects more noticeable. The reason for building in bump-steer from the factory comes down to whether understeer or oversteer is preferred in situations when turning sharp enough to heavily load one side of the front suspension (understeer is preferred by manufacturers for safety, so bump-steer is added in). While this isn't specifically bad on a street driven car (within reason), on a track setup minimal bump steer is preferred.
Model Guide:
Datsun 240Z, 260Z, 280Z
Code Guide:
Datsun S30
Year Guide:
1970, 1971, 1972, 1973, 1974, 1975, 1976, 1977, 1978
Attention California Customers:

WARNING:
Cancer and Reproductive Harm -
www.P65Warnings.ca.gov
.